Episode 6: How to access an article – The findit.lu-button

Within search results (Episodes 4 and Episode 5) on findit.lu or in external databases, you will often see a little blue button with the words "findit.lu" next to the detailed record / search result.
We will call it the "findit.lu-button".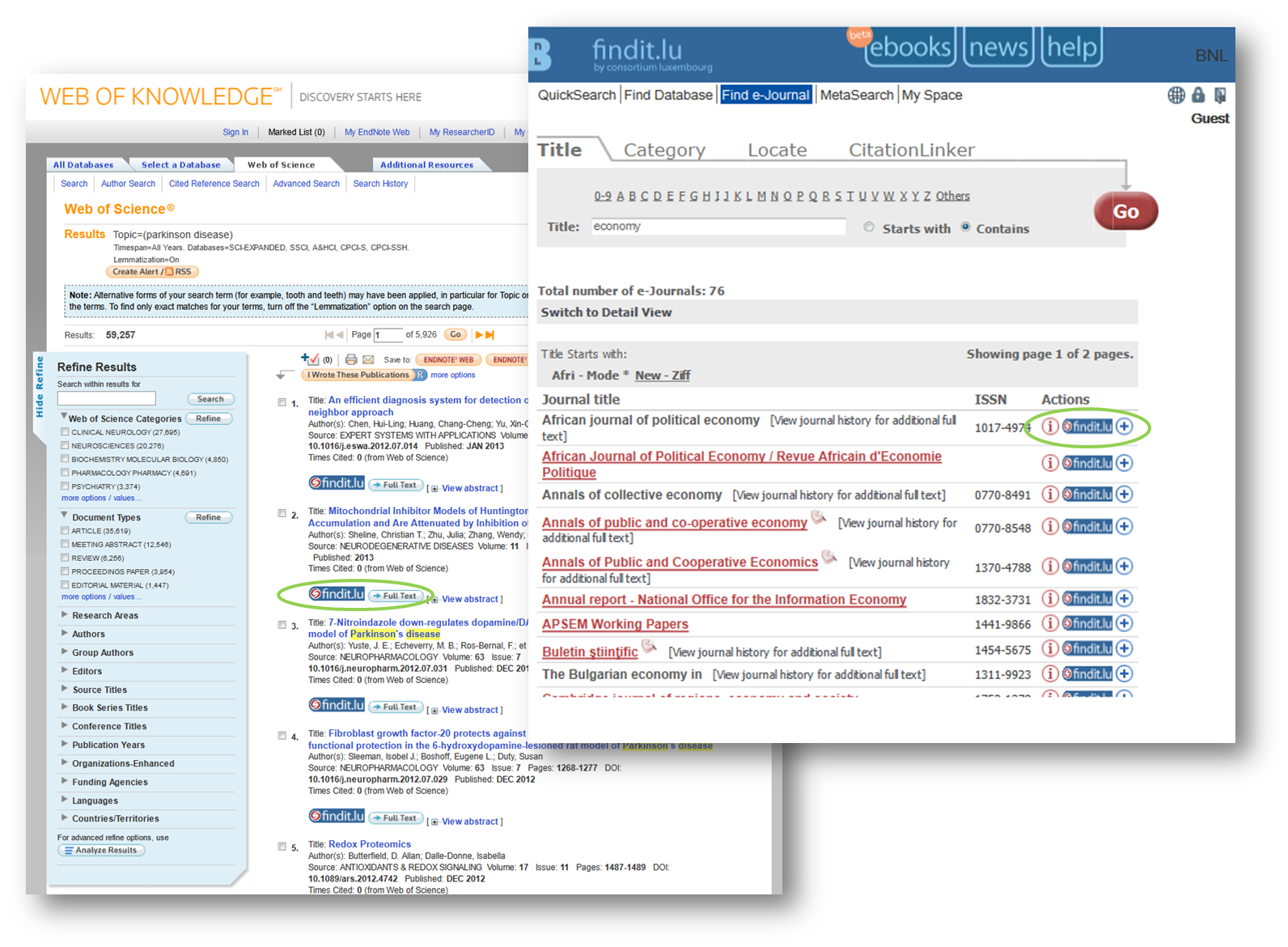 You will find the findit.lu-button next to search results of articles / bibliographic records, journals and e-books. By clicking on it a small popup–window will open. It is a service that provides you with the options to get items that are available to you as a library card holder. These options could include a link to the article full text, a link to the record for the item in our library catalogue Bibnet.lu or, where these aren't available, a link to our Inter-Library Loans service.
Depending on the record's type we will provide further options, respectively several possibilities to obtain the item:
Link to the full text (type: article, journal, e-book) – will link you to the website, and in many cases the actual web page, where full text is available in electronic form.
If available, a recommender service (bX) will propose other articles that may be relevant (type: article)
Link to the abstract (type: article, journal)
Link to table of contents (type: article, journal)
Check Google Book Search (type: e-book)
Print copy in Catalogue bibnet.lu / availability of the item in library catalogue (type : e-book, journal)
Link to further articles by this author: "Check for articles by this author in…" (type: article)
Interlibrary Loan (type: article, journal, e-book) – if the item is not available online or held in print it gives you the option of requesting the item from another library using the National Library's Interlibrary Loan service (there is a charge for this service).
Save reference (all types of record)
Ask a BnL librarian via Feedback Form (all types of record)
As well as appearing on findit.lu, we have arranged for most key database suppliers to add findit.lu-buttons or text to their interfaces, e.g. Scopus, Ebsco, etc.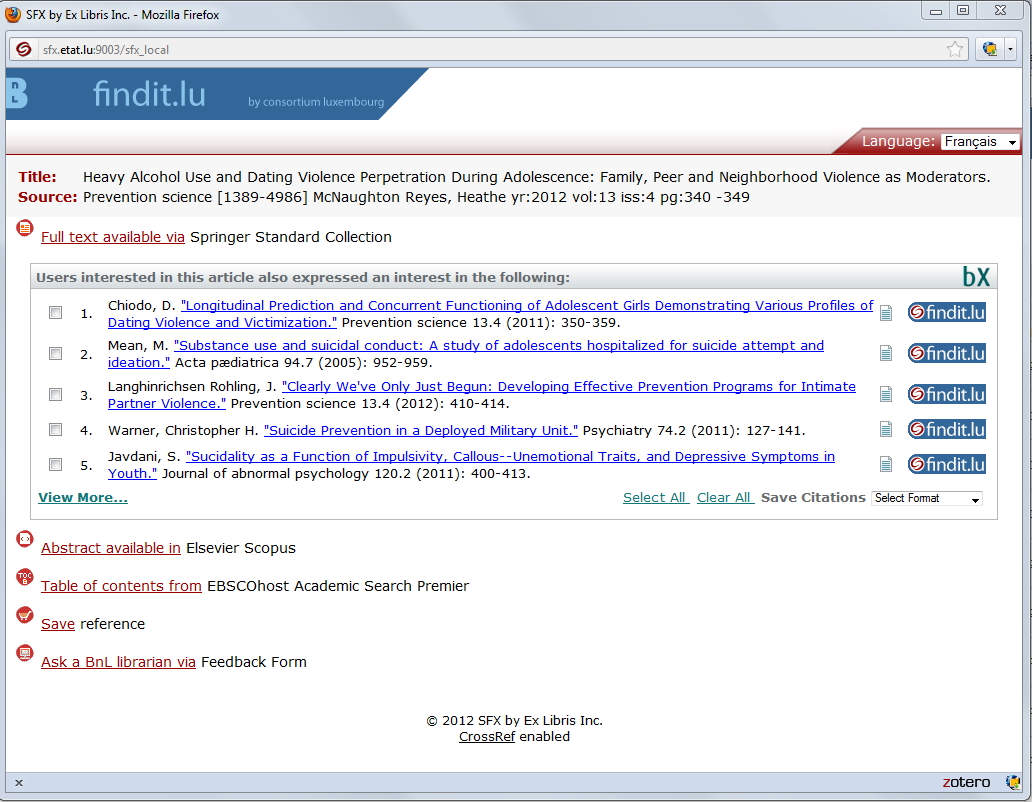 That means: the findit.lu-button is the connection between bibliographic records which you will find in databases and the articles (full text) you can access via findit.lu.
The findit.lu-button "communicates" with findit.lu to check whether you will have the specific rights to access the content or not.
Does the presence of a findit.lu-button indicate that findit.lu has access to the item?
No, not necessarily. All results from enabled databases will have a findit.lu-button beside them. You will need to click on the button to see what options are available. But sometimes you will see that you only get access to the abstract or table of contents of an article or journal (due to license reasons). If you find that it is not available electronically or in print here you should see an option to use our Inter-Library Loan service to obtain the item from another library (there is a charge for this service). See Episode 11 "Interlibrary Loan" to see how to perform Interlibrary Loan online.
To recap, the findit.lu-button is available in many databases (Ebsco, OLC, Scopus, Web of Knowledge, etc.) to help you get access to the referenced articles.
Attention: For freely available databases like Google Scholar or PubMed, you have to adjust your settings to add the findit.lu-button.
Find out more in Episode 6a: Enable your browser to show "Findit.lu-button" in external databases
List of all Episodes: http://blog.findit.lu/help