Episode 1: How to register? How to renew your library card?
Access to findit.lu comes free with every library card from the National Library, the University of Luxembourg, Luxembourg Institute of Science and Technology (LIST) or Luxembourg Institute of Health (LIH).
Not yet a member?
Student, researcher or staff of the University? Contact the University of Luxembourg library.
Resident in the Grand-Duchy or its neighbouring regions? Contact the National Library.
Scientist or staff member of the Public Research Centers? Contact your local documentation center.
For obtaining a library card at the National Library of Luxembourg, please visit us in our main building at 37, boulevard F.D. Roosevelt, 2450 Luxembourg. Please don't forget to bring your ID our passport to identify yourself. You will get an individual library ID as well as a password on the spot.
Access plan: http://www.bnl.public.lu/fr/support/contact/accedez_bnl
Opening hours: http://www.bnl.public.lu/fr/support/contact
Your User Account
To login to your user account, please visit catalog.bibnet.lu.
In the right corner you can choose between three languages: French, English and German. Click on "User Account" (Compte utilisateur / Benutzungskonto) to login.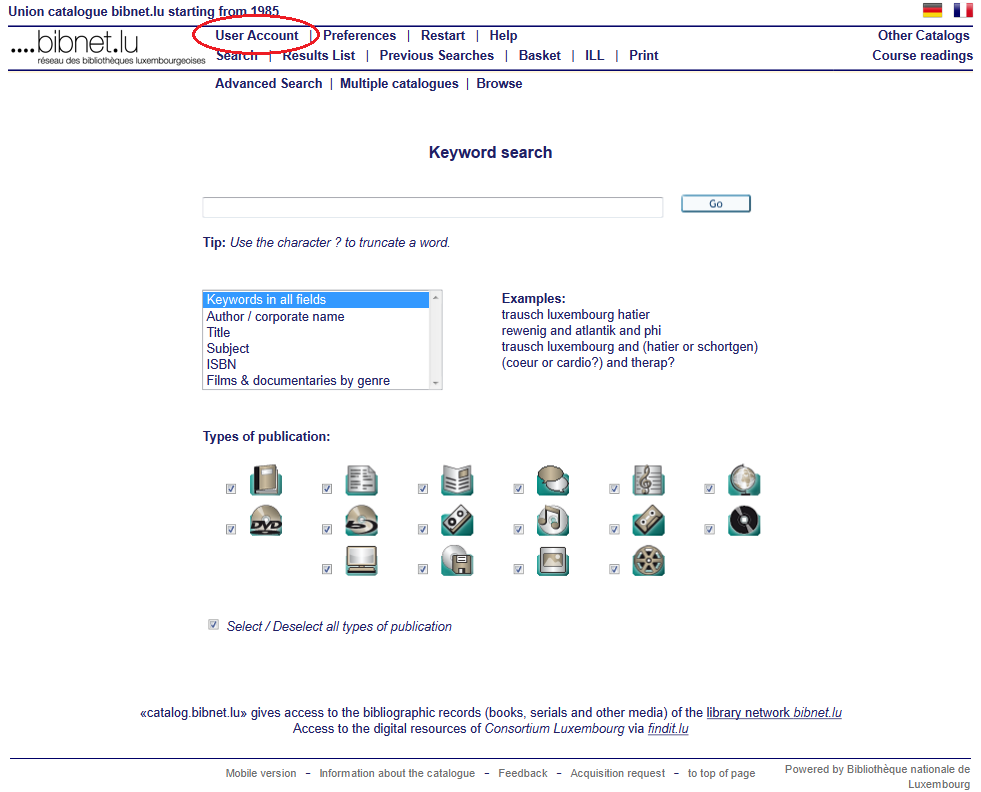 A login form will appear. Please type in your User ID which you will find printed on your library card. Type in your password (initially first 5 characters of your last name) and click the Log On-button.
Within your user account you will have the possibility to change your personal data, get an overview of your loans (and extend your loans), do interlibrary loan (see Episode 11 "Interlibrary Loan"), update your personal details, change your password and check the expiration date of your card.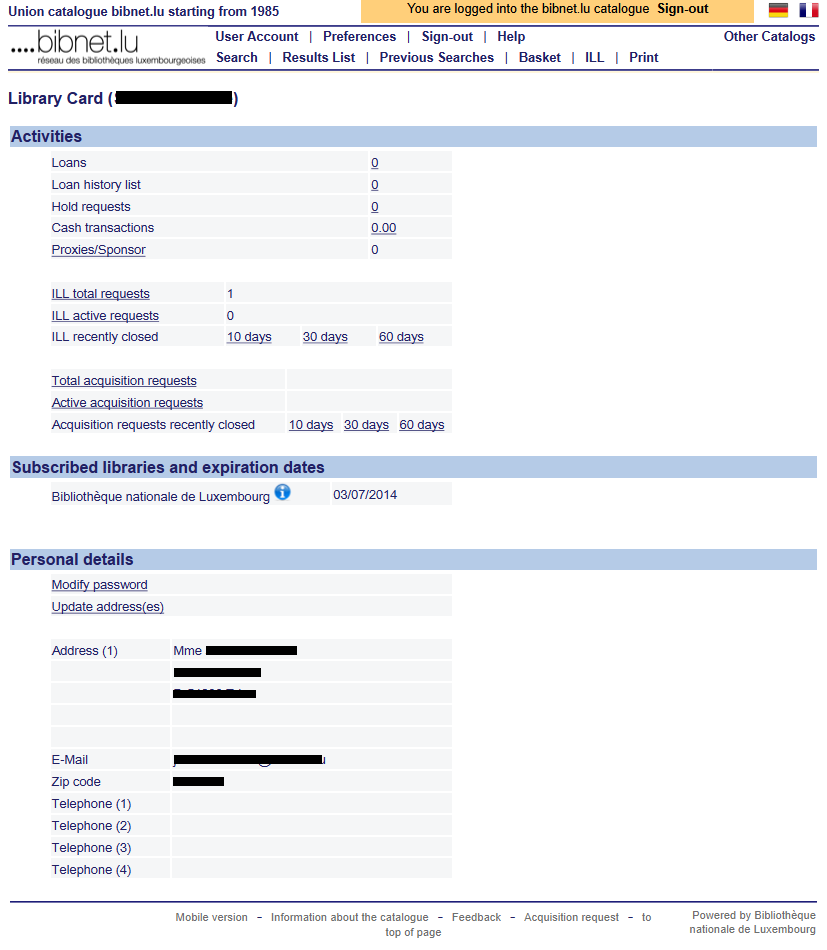 Due to security reasons we recommend to change your initial password after your first login. Please choose "Personal details" > "Modify password" to set a new password.
Subscribed libraries
For getting a quick overview of all libraries you're subscribed to (including libraries of network Bibnet.lu) as well as respective expiry dates of the subscriptions, simply check "My Space" > "subscribed libraries" on findit.lu.
If you are only subscribed at a library of the library network bibnet.lu or, if either your National Library or University library account has expired, databases and journals on findit.lu won't be accessible for you. You will find a small red icon next to the name of the databases in the "Find database" menu.

If your card has expired, subscribers should please contact the library that issued your card. They will be happy to renew it free of charge.
Find more details below.

Renewal
The validity of your library card is limited to two years. After expiration the card can be renewed very easily on request.
How to renew your inscription?
The card can be renewed free of charge:
National Library
At the reception of the National Library (Tuesday to Friday: 10h30 to 18h30, Saturday: 9h00 to 12h00)
by telephone : (+352) 22 97 55 – 1
by e-mail : inscriptions@bnl.etat.lu
Readers of University of Luxembourg Library will find contact details here: http://wwwen.uni.lu/library/ask_a_librarian
Scientist or staff member of the Public Research Centers please contact the local documentation center.
When you renew your registration, please confirm the accuracy of your data or, if necessary, communicate any change of address, phone number or email address.
Continue with Episode 2: Where is the findit.lu portal and how do I login?
List of all Episodes: http://blog.findit.lu/help